What are 3 Skills Required for a Graphic Designer?
Having the right skills is vital if you want to be a graphic designer. Creatives with the proper skill set are a hot commodity and can earn significant incomes with the right experience. At Creative Harmony, we only work with the best and most enthusiastic graphic designers. In return, we offer excellent opportunities and a chance to work on many projects for our wide-ranging clients.
Whether graphic design is your dream career, a stepping stone to owning your own business, or the first step to becoming a creative director, knowing the skills you need is the best place to start.
Basic starting point for skills
Some skills are vital in any career as well as in everyday life. Communication skills are probably foremost among them. The ability to make yourself clearly understood verbally and in writing is essential, as is the ability to read a room and pick up on non-verbal cues.
Understanding different forms of communication is also essential. As a graphic designer, you are trying to get a message across to those viewing your work. You need to be able to interpret a message and convey it to different people.
Communication is also about sharing ideas and working with other people. Working as part of a team is crucial and sharing information is essential to this working effectively.
Graphic designers must be able to communicate with clients. They need to listen to and understand the brief, explain designs, and listen to, understand and action feedback. Graphic designers must also be able to communicate with the rest of the design team, providing input into designs, explaining issues, and offering solutions.
Other soft skills are equally important in the world of work. Teamwork, problem-solving, time management, critical thinking, decision-making, organisational skills, and stress management skills are vital to successful careers. They are no less important in graphic design. Soft skills assist with meeting deadlines, productive work relationships, and producing quality work that fits your brief.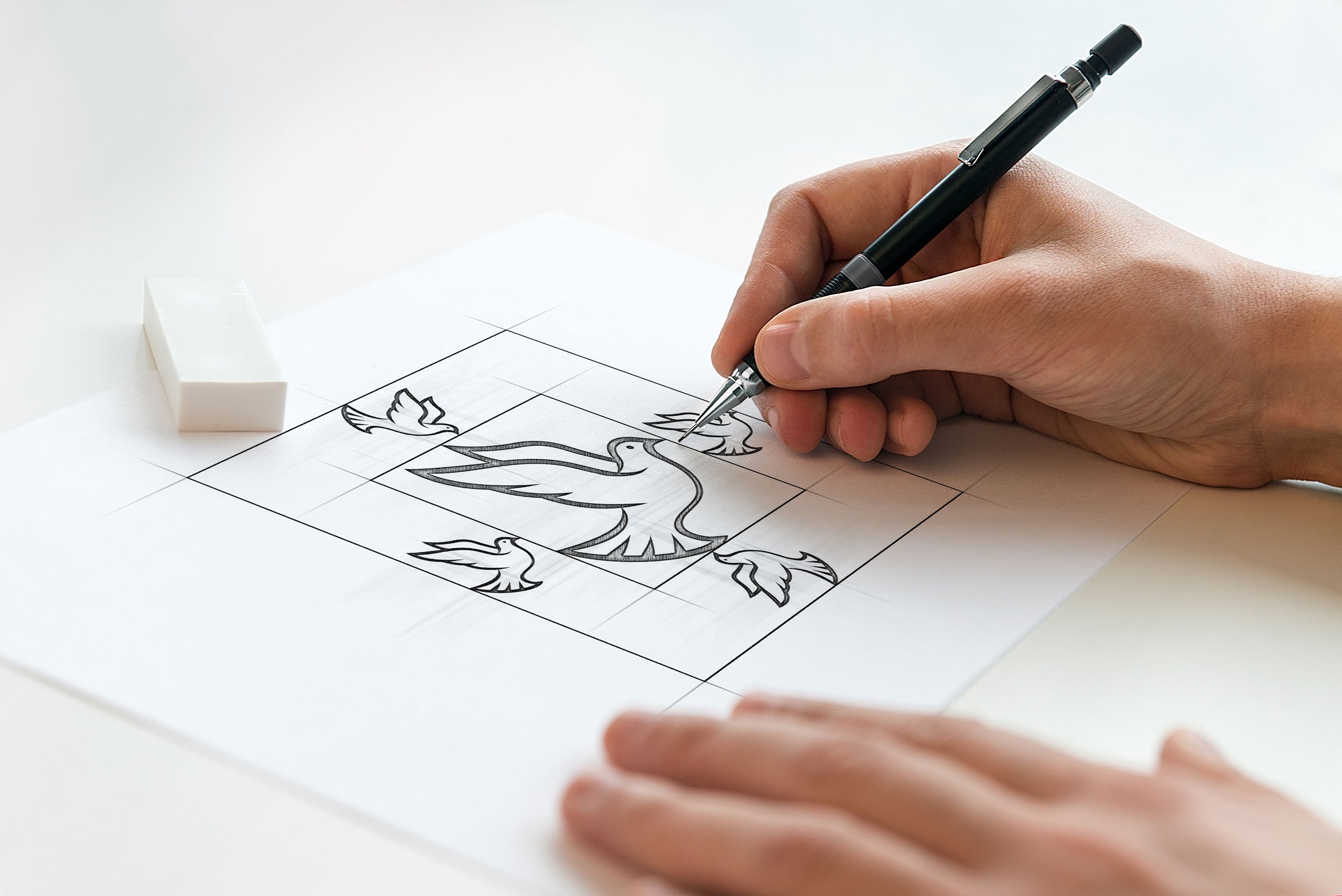 There are, of course, some skills that are more specific to graphic design. These skills help you stand out from the plethora of job candidates and freelancers that are out there. Three critical skills that every great graphic designer needs are:
Creativity
It seems so obvious, but it is so vital that it is worth highlighting the importance of creativity. Graphic designers need to constantly develop innovative ideas and concepts that bring clients' briefs and ideas to life.
Visualising a concept, seeing where the different parts fit together, and understanding it from the client and customer's perspectives is vital. Graphic designers need to see where improvements and changes can be made without spoiling the design. They need to be able to tap into their creative resources and solve problems quickly and efficiently while ensuring every project's outcome is unique.
Understanding Interactive Media and Typography
There are many different elements to graphic design, from understanding page layouts to colour theory. Knowing how these elements fit together in various media is vital to being an exceptional graphic designer. The visual elements that make up graphic design are not limited to photographs, images and illustrations.
Balancing images and words, ensuring the meaning is clear and making the result visually pleasing are essential. Typography is just as important. It is not just about being able to access various fonts. It is about knowing which one to use and why it works best. Making a mistake in typography can tarnish an entire project.
Different media require different approaches to visuals and typography. A project that requires various interactive media may pose its own set of challenges. What works on a website will not necessarily work in a video, and audio marketing needs a different approach.
Software and Coding
Creativity gives you the ideas, and understanding interactive media helps you visualise and put together those ideas, but to bring them to life, you need software and coding skills. Technology is an essential element in most graphic design. At a minimum, you are expected to understand Adobe's creative software— primarily Adobe Illustrator, InDesign, and Photoshop.
You want to ensure the person you hire has an in-depth understanding of Adobe and can use it effectively. Many people can grasp the basics of these software apps, so to stand out you need to make them work for you and show that your understand surpasses that of others. The same is true if you are looking to hire a graphic designer.
Coding does not play such an integral part in graphic design; however, that doesn't mean you can ignore it. A basic understanding of HTML is crucial because it gives you a better understanding of the work involved in creating exceptional websites. Learning the fundamentals of C++ and Java further increases your employability.
Other Important Skills
As well as the three critical skills above and your soft skills, there are other skills that top creative and graphic design agencies look for. Understanding marketing and branding is a definite plus when working in graphic design. Understanding branding helps you understand and interpret a client's needs. It ensures that any design you create works within the company's vision and ensures the company is instantly recognisable.
Being able to present your work is also vital. While communication skills are essential to this, there is more to it. You need to convey your reasoning and passion to the client and explain complex work in terms they understand without coming across as condescending. Being able to achieve this increases your value in any team.
Put Your Graphic Design Skills to Work
If you have these skills in abundance, finding the right work experience is next. Getting started with the right company can help you forge your graphic design career quicker and support you in learning new skills along the way.
Whether you are looking for a graphic designer for your project or want more information on what it takes to become a graphic designer, contact Creative Harmony today.
If you are looking for expert local graphic designers in the London area and right across the U.K., we look forward to hearing from you
Here at creative harmony, we work with a range of businesses to bring their ideas to life. From websites, digital marketing, and branding, our expert graphic design team can offer you outstanding results and exceptional support.
Get in touch here to discuss how we can help with your design projects.
What Do Graphic Designers Do?
If you are looking for a career that combines creativity, collaboration and using some of the most cutting edge software, you might be considering joining the ranks of fully qualified graphic designers.
You might also be looking for local graphic designers near you and want to understand a little more about how digital designers structure their day.
So let's nail the brief first, before we delve into a little more detail.
A graphic designer designs visual concepts, usually with specific design software. Important skills are creative flair, communication and the ability to conceptualize clients' requirements. Graphic designers entice an audience with the visual layout of books, brochures, websites, magazines and logos.
So with the short answer unravelled, so you can understand more about what a graphic designer does, let's discover exactly what they do. Continue reading more about this topic in this blog post What Does A Graphic Designer Do.
Can We Help with a Project?
We're happy to discuss any aspect of your branding and design with you.  
If you'd like to speak about your next project, email hello@creativeharmony.co.uk
Creative Harmony – Creating Your Future, Designing Your Success
Please fill out this form and we will be in touch