Tips for Achieving the Very Best Corporate Brochure Design
Creative Harmony has compiled a list of the top ten things to consider when designing a corporate brochure. We have supported businesses with corporate brochure design since our inception.
Our clients range from government agencies to sole traders, and the businesses we support use their brochures to sell everything from tableware to luxury items and services. Regardless of your business' size or sector, the brochure design process remains the same.
Every brochure Creative Harmony designs helps our clients achieve their goals. Our brochure design works if the client wants to educate the customer about their product, services, or brand, increase sales, or further their marketing effort.
A Free Lunch is Rarely Free or Helpful
In the business world, things are rarely ever actually 'free'; when they are, the quality usually suffers. Offers for 'free brochure templates' or 'corporate brochure design free' promotions leave you with a brochure identical to many others on the market. You won't stand out from your competitors and will have wasted valuable time and effort.
Commercial printers that offer free brochure design packages are looking to recoup the costs through large print runs. Your finished brochure will likely be lower quality than you need and include expensive printing options that add little to the overall design or brief.
Digital versus Print – do you have to choose?
New technologies and changing buyer behaviours keep the business world evolving. It can be tempting to move away from traditional media and move everything online to keep up with the trends. While it is vital to consider digital brochure design as part of your marketing mix, it doesn't have to be an 'either/or' situation.
Creative Harmony focuses on creating well-designed brochures that work effectively in print and online. If you get the creative design right first, you can edit the design files and create an interactive online version or share your corporate brochure design pdf.
Creative Harmony's Top 10 Tips for perfect corporate brochure design
Consider these tips if you want your corporate brochure to enhance your brand values and resonate with your customers:
Focus on Outcome and Purpose
Start with a clearly defined brief stating exactly how you want your customer to think and feel and what you want them to do.
Define Personas or Targets
Who are you talking to? What are their specific requirements? The clearer your answers to these questions, the more effective your finished brochure will be.
Think Strategically
Your brochure should complement your existing marketing channels and any new channels you use or create. It should support customers as they explore different marketing channels and provide a sense of continuity.
Consider Interactive Options
Consider interactive versions during the design stage, if possible, as this makes them more effective. Retrospectively adapting your brochure can compromise its effectiveness and be unnecessarily time-consuming.
Apply Branding Consistently
Your brand guidelines should be in place before you start designing. Ensure the guidelines are applied consistently and correctly during the design phase.
Choose Images Carefully
Avoid overused stock images at all costs if you want your brochure to stand out from the crowd. Also, avoid using poorly framed or low-resolution images as they lower the quality of your brochure. Use high-resolution photography or purchased images for the most impactful layout and creativity wherever possible.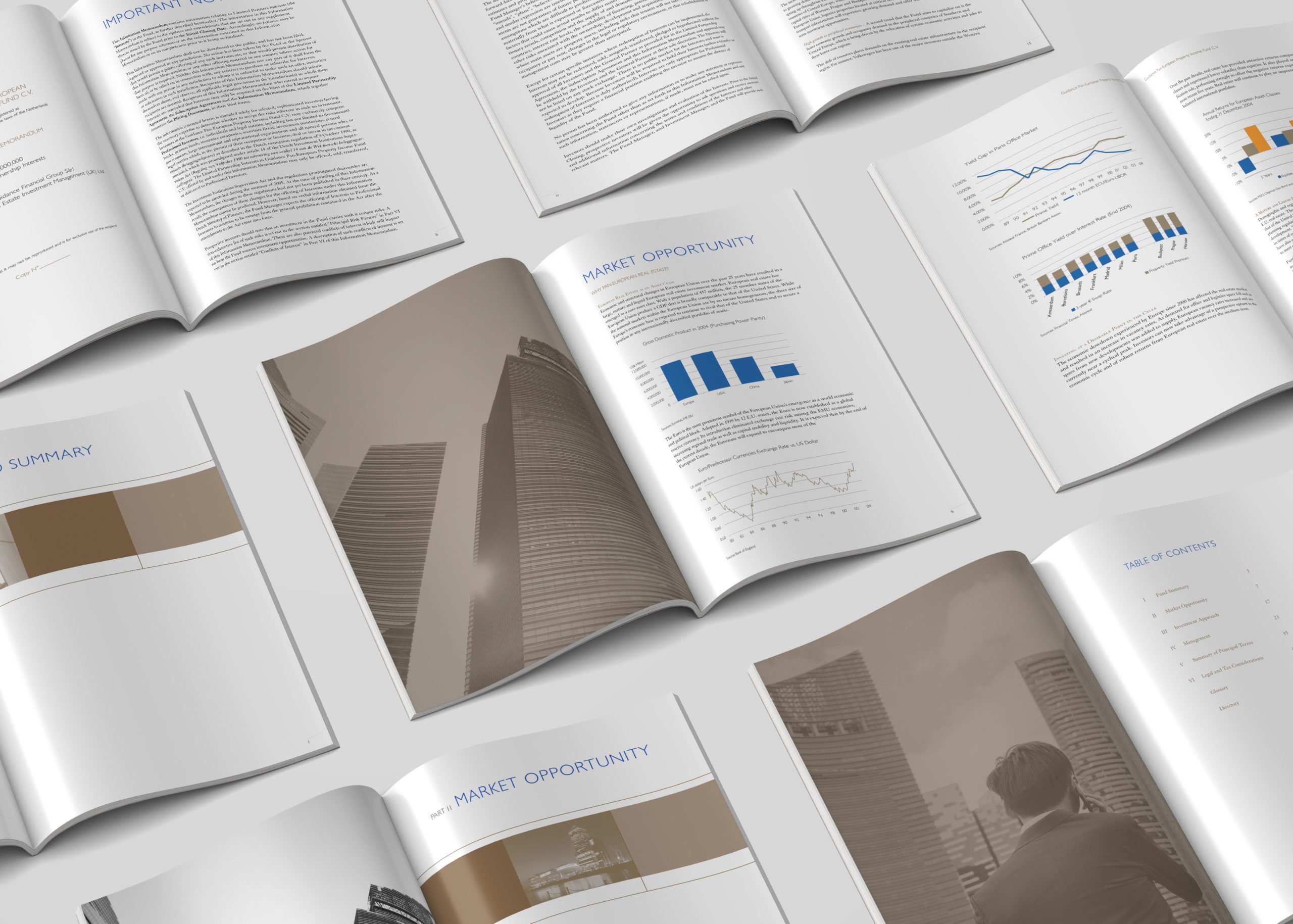 Agree on Copy and Content before the design
Where possible, prepare all written copy and content before starting the design. Doing so is more cost-effective as it reduces the risk of overruns and delays affecting final costs and deadlines.
Clarify how you'll Approach Changes and Edits
Agree with your designer on a feedback process and how to mark up a pdf if changes are required. Knowing how this works in advance reduces confusion, mixed messages and delays.
Explore Paper stocks and Finishes Early
Your paper stock choices and your finishes significantly affect your brochure's impact. These options should be part of the initial design discussions.
Proof Well
Discuss proofing options with your designer if photography and your brand colours are vital to your messaging.
Creative Harmony has accumulated a wealth of knowledge and experience from the corporate brochures we have designed over the last few decades. We can support you through every step of the design process for your next corporate brochure.
Contact Creative Harmony today for a free quote.
As an award winning brochure design agency we provide a complete end to end service producing informative, inspiring and persuasive brochures. We offer custom full-service print and digital brochure design services. Our expert creative team has the experience to produce an attractive result-driven brochure for any industry, anytime. A professionally designed brochure delivers your message to potential clients in a visually appealing way that leaves a lasting impression – making it one of the best marketing investments you could ever make for your business. Click here to find out more.
Want a brochure designed by professionals?
Get a fixed price Brochure Design quote
Complete the form and get a free no obligation quote within 24 hours